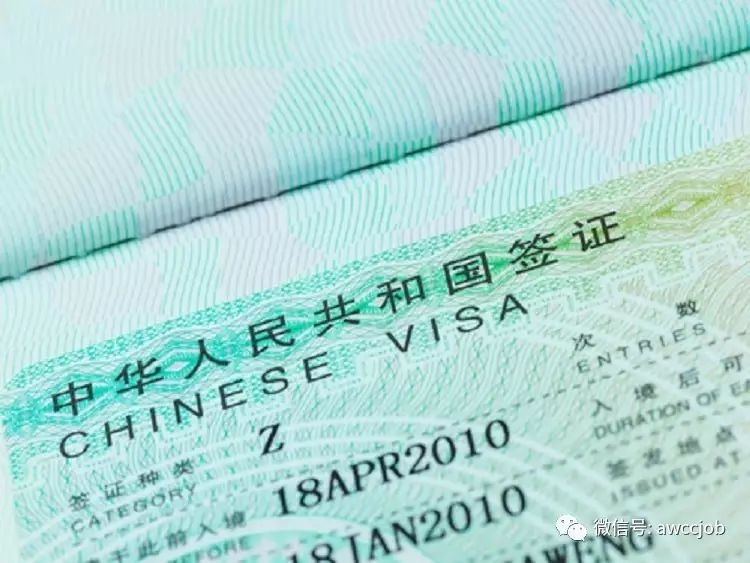 Up until 2017, the procedure for getting a Z visa to teach English in China was fairly straightforward.
When you applied for a vacancy, all you needed to do was submit your resume, photo, references as well as scans of your passport, degree and TEFL certificate to your recruiter or prospective employer.
You had an interview via Skype and if the school decided to offer you the position (and you accepted it), the school would send you a medical form to take to your doctor. If you got the all clear, the school would then send you an official invitation letter which you would take to the Chinese Embassy in your country together with your passport.
This would get you the Z visa.
New requirements for teaching in China
Recently, however, probably due to the emergence of 'fake' degrees the Chinese government has introduced some new procedures.
The government now requires all qualifications to be apostilled in order to land a teaching job in China. Aposti-what? If you have never heard this word before, read on to find out what you now need to do, how much it costs and how long it takes.
Get your certificates notarized
The first step is to get your qualifications notarized by a solicitor or a notary public.
This person takes a photocopy of each of your certificates and then stamps and signs the photocopies. The stamp must contain their name, the name and address of their organisation, their signature, the type of certification and the date.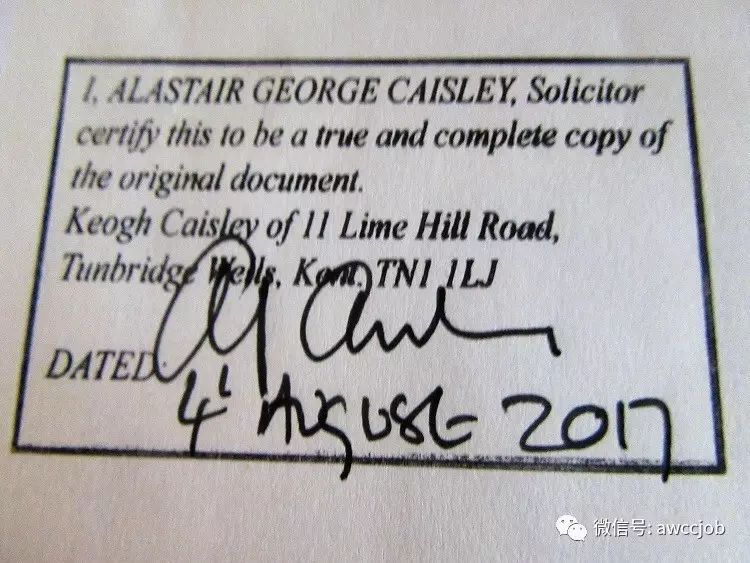 Solicitors stamp.
In the UK, this process will cost between £10-30 per certificate and can be done on the spot with no waiting time involved.
Send the certificates to your government
The second step is to send the notarized certificates to your government (the Foreign & Commonwealth Office, or FCO, for UK citizens) to be apostilled.
The good news is that you don't have to send your original certificates – the FCO accepts photocopies – so the risk of losing your original certificates in the post is eliminated.
The FCO attaches an apostille to each of your certificates. This document contains the following information: the country in which the apostille was issued, the name of the notary and the capacity in which they were acting as well as the place, date of issue, name, signature and stamp of the official who issued the apostille.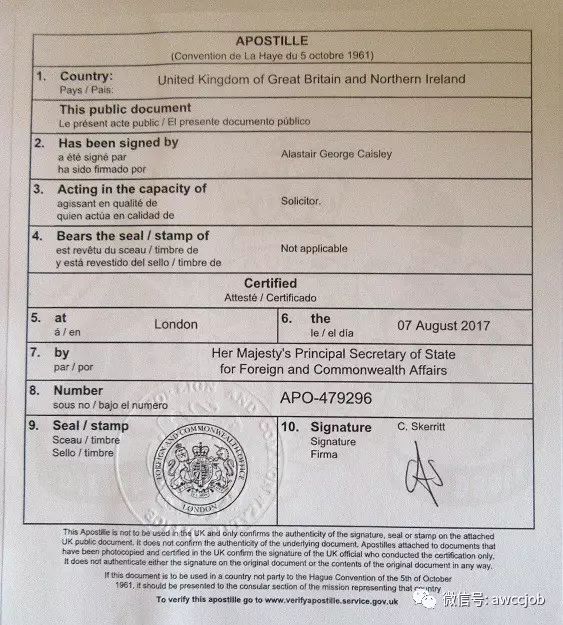 An apostille.
The FCO is very strict – if any details are missing, even a date, they will send the certificate back to you and you will have to resubmit it. This will cost you £30 per certificate plus £5.50 for return postage.
The service, at least in my experience, was extremely quick – I received all my certificates back within four days of posting them.
Get your certificates legalized by the Chinese Embassy
The third and final step is to get your certificates legalized by the Chinese Embassy.
In the UK, the Consular Section of the Chinese Embassy is only open from 9am to 12 noon Monday to Friday. You will need to bring along your passport, a photocopy of your passport, the original copies of the certificates that have been legalized by the FCO plus one photocopy of each document and one photocopy of each apostille.
If the name on your degree certificate is different to the one on your passport you will also need to make a statement before a solicitor that the two names belong to the same person.
At the embassy, you will be asked to fill in a form with your name, address and date of birth as well as the types of documents you are submitting, your reason for needing the documents legalized (to work in China), your signature and the date.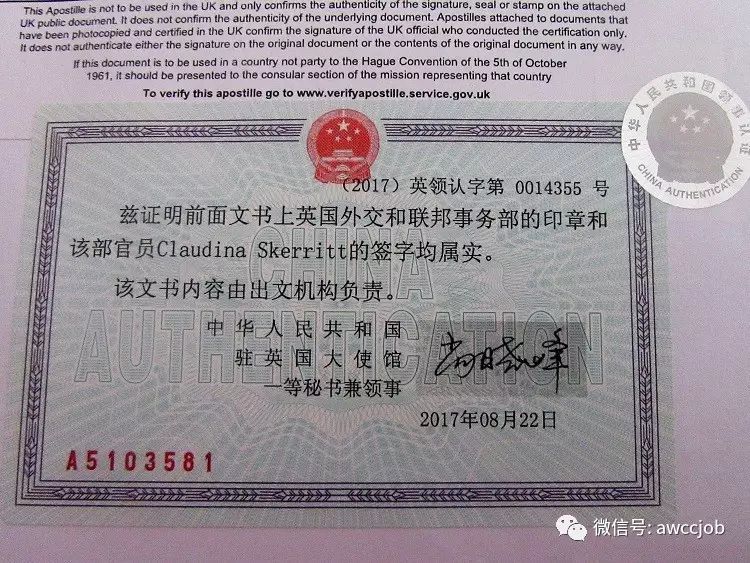 A legalized document.
A clerk will check that all your documents are in order and that you have filled in the form correctly. You will then be given a number and asked to wait.
When your number is called, go to the legalization counter and hand in all the paperwork. You will be given a receipt and advised when you should come back to pick up your documents.
The whole process takes three to four working days and costs £15 per certificate.
Be prepared when applying for your Z visa to teach in China
The implications of the new regulations for current and prospective teachers are significant. It will take some time, cost some money and will require you to have access to certain documents. If you need your university to issue a duplicate certificate, that might take about a month and cost around £45.
Decided teaching in China is for you? Great! It's important you're ready for this brilliant opportunity.
A bachelor's degree is the main qualification you need to teach in China. Make sure you've completed your degree, or you're in your last semester, before you apply with us.You need a bachelor's degree in any field to teach in China.

You also need a TEFL certificate, unless you have an education or teaching degree. If you don't have a TEFL certificate, you can still apply with us today.
We offer discounted TEFL certificates from our partner, TEFL Source.
The minimum certificate you need for China is 120 hours. It can be done entirely online or a combination of online and in person.Most people complete their TEFL certificate in their home country before they go to China. However, you have the option of completing it in a classroom setting in China, with other people like you, before you start teaching. Please
The recruitment process is fairly straightforward. If you're eligible for a teaching position, we'll contact you to arrange an interview on Skype or over the phone. Successful candidates will then progress to the next stage with our contact in China.
Based on your preferences (like location and type of school) you'll be provided with a teaching contract. This is the agreement between you and the school in China (i.e. your employer).
You need a special visa to teach in China and we'll help facilitate that for you. The visa process can take a few months which is why you should, ideally, apply at least three months before you start teaching.
What qualifications do you need to teach English in China?
In summary, what the new Z visa regulations entail for new and existing EFL teachers in China are: access to all your degree and TEFL certificates, a processing time of approximately two weeks (add a month if you need a duplicate certificate from your university) and over £100 in fees (based on one degree certificate plus one TEFL certificate).
It is highly advisable to do all this before you leave for China if you are a new teacher, or in your summer break if you are a returning teacher, as trying to do this from China would be more difficult.
As the Boy Scouts' motto goes: "Be prepared".
source: https://www.helloteacher.asia
Are you ready to change your life and work in China? As a Nanjing-based headhunting company, IJOBINCHINA SPECIALIZES in assisting you with jobhunting/recruitiment/the visa procedure/housing/other relevant service living in China. As to visa service, we offer:
Translation, China visa policy consulting, document preparation & submission(including Non-criminal Record& Degree Legalization), accompany & delivery service etc.

More details, welcome to follow us on our official wechat accout scanning the following QR code or contact us!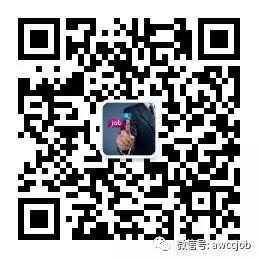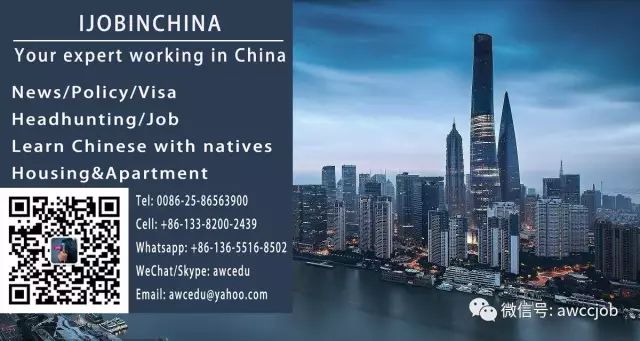 Click "Read more" to apply for a job now!
Click " write a comment" below to let us hear your voice